292 Years of the Croatian Parliament Palace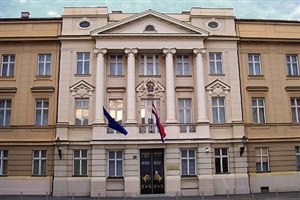 Baroque palace as it is today, where sessions of the Croatian Parliament are held, disposes of technological and architectural solutions adjusted to the needs of modern legislative process. However, the very beginning of Croatian representative body, some hundred years ago, was very much different.
Although the Parliament has been convening its sessions in Zagreb since the 13th century, until the end of the 18th century the discussions related to legislative work were held in the houses of city dignitaries, royal and bishop's court. That could be explained by the lack of official parliament building.
It was only in 1731, when the house was purchased at St. Marko's Square, being the main city square at those days, when the parliament assembly obtained a steady venue. Besides the session hall there were parliament offices, archive, judiciary court and arms dump in the same building as well.
Croatian Parliament convened its first session in the new building on 6th May 1737.
In the next 150 years the parliament building was often renovated. Some offices were occasionally shared with the City Government, thus the building became too small for the parliamentarian needs. Therefore, surrounding city palaces were purchased and after complicate construction interventions united into one single palace. In 1911 the complete construction work was finished and the Croatian Parliament became the only owner of the building.
Due to long process of construction and adaptation of the Parliament building there is a certain mix of shapes and styles where one can notice elements of classicism, neo-renaissance and Art Nouveau making this palace an important cultural monument.